Fiore Special Antibacterial Paint (303)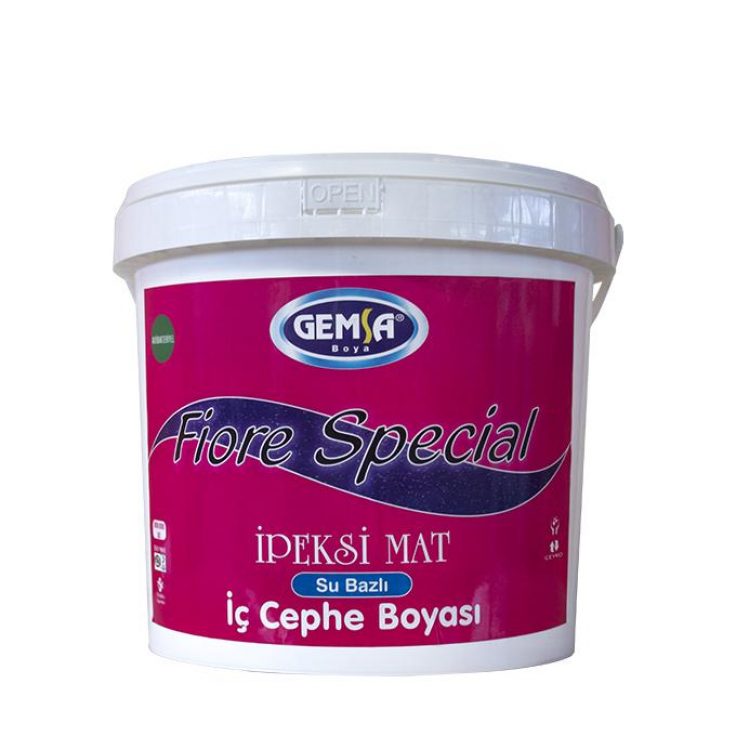 Definition: Acrylic copolymer is an emulsion-based, silicone-added, semi-mat-looking, decorative inner surface topcoat paint. It is an anti-bacterial paint with wiping feature, does not crack and flake, and adheres perfectly to all kinds of surfaces. Due to its antibacterial properties, it is highly resistant to mold, moisture and bacteria. It saves labor thanks to its spreading power during application. Due to its water-based nature, it does not have a disturbing smell and is environmentally friendly.
Area of Application: Fiore Silky Semi-Matte Satin Paint can be safely used as a topcoat on old painted and new surfaces that are prepared for the ground floor such as satin plaster and paste. It is also ideal for nurseries, hospitals, and high humidity areas (dining room-oven) as it is free from harmful chemicals.
Application Tools: Brush, Roller
Method of Application: Surfaces to be applied should be cleaned from all kinds of oils, dirt, loose and raised layers. Fiore Special Antibacterial Paint is applied in two coats after the surface is thoroughly sanded on the old synthetic painted surface and the sanding powders are removed from the surface. Surface defects should be corrected with Gemsa Acrylic Interior Wall Paste. Fiorelac Transparent Primer should be used on absorbent surfaces such as Gemsa Acrylic Primer and mineral-based plaster to be newly painted on old painted and very dirty surfaces. Fiore Special Antibacterial Paint should be thinned 10-15% by volume and the waiting time between the layers should be at least 6 hours.
Paintable Area: Depending on the surface on a single coat, 10-12 m2 can be painted with 1 lt, 7-8 m2 can be painted with 1 kg.
Drying Time 25°C: Touch drying: 30 minutes – Hard Drying: 24 hours
Storage Type and Duration: 1 year in a cool and dry environment not receiving direct sunlight, sealed packaging (+5°C to +30°C)
Safety Warnings: 
(S2) (Keep out of the reach of children.)
(S7) (Store in a closed, cool, and ventilated place.)
(S24/25) (Avoid contact with eyes and skin.)
Notes: Temperature of the application surfaces should be above +5°C.
| | |
| --- | --- |
| Package Filling | TL / Pieces |
| GLN | 65.00 TL |
| 9/1 | 150.50 TL |
| 18/1 | 289.00 TL |