Gemsa Mother of Pearl Paint (203)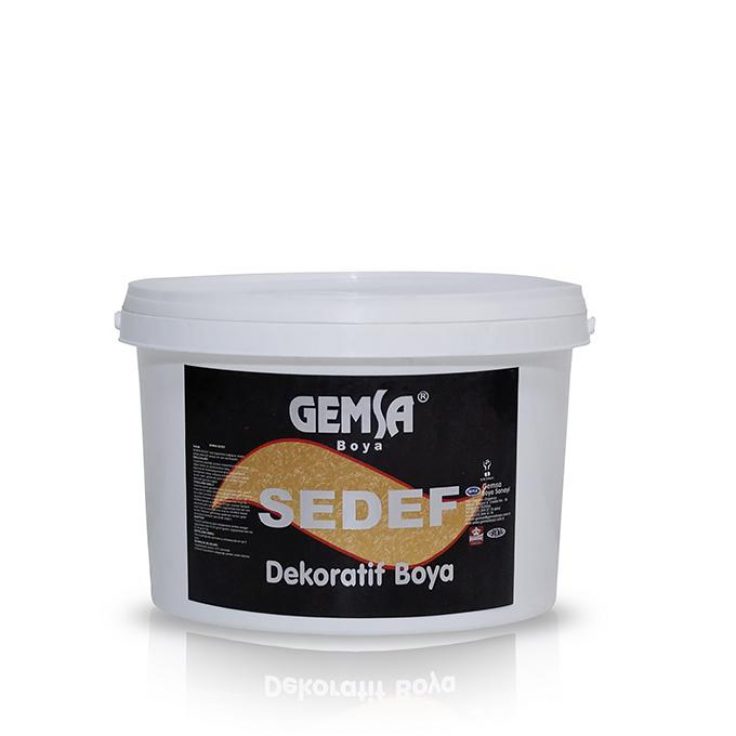 Definition: It is a water-based paint used for decoration purposes where two different materials are applied on top of each other and as a result light-dark, mother of pearl-glitter effects can be obtained. Mother of pearl is inspired by damask patterned fabrics and the desired pattern can be formed according to the tool used in the application. It is a wipeable, breathable and long-lasting material.
Area of Application: Gemsa Mother of Pearl Paint can be used in all indoor areas; in private areas such as offices, residences, and in public places such as shopping malls and schools. It can be applied on new surfaces such as plaster, gypsum board, cement, plaster, concrete, wood, and mosaic etc. and on old surfaces that can carry themselves.
Application Tools: Decorative Sponge
Method of Application: Surfaces for application should be solid, clean, and dry. It is applied without thinning. It should be mixed until it is homogenized in the paint packaging before use. Clean your rollers and hand tools with warm water after each application. Gemsa Mother of Pearl Painted surfaces should be protected from physical impacts for 3 days. In order to prevent shell formation in the increasing paint, add some water to the surface and store without mixing.
Paintable Area: Depending on the surface on a single coat, 10-12 m2 can be painted with 1 lt, 7-8 m2 can be painted with 1 kg.
Thinning Ratio: Ready to use.
Drying Time 25°C: Surface Drying: 1-2 Hours
Hard Drying: 24 hours
Storage Type and Duration: 1 year in a cool and dry environment not receiving direct sunlight, sealed packaging (+5°C to +30°C)
Safety Warnings: 
(S2) (Keep out of the reach of children.)
(S7) (Store in a closed, cool, and ventilated place.)
(S24/25) (Avoid contact with eyes and skin.)
(Q29) (Do not throw into sewers.)
(S46) (If swallowed, immediately seek medical help and show the container and label.)
Notes: Temperature of the application surfaces should be above +5°C.
| | |
| --- | --- |
| Package Filling | TL / Pieces |
| 1/1 | 40 TL |
| GL. | 100 TL |
| 1/10 | 190 TL |
| BD. | 400 TL |