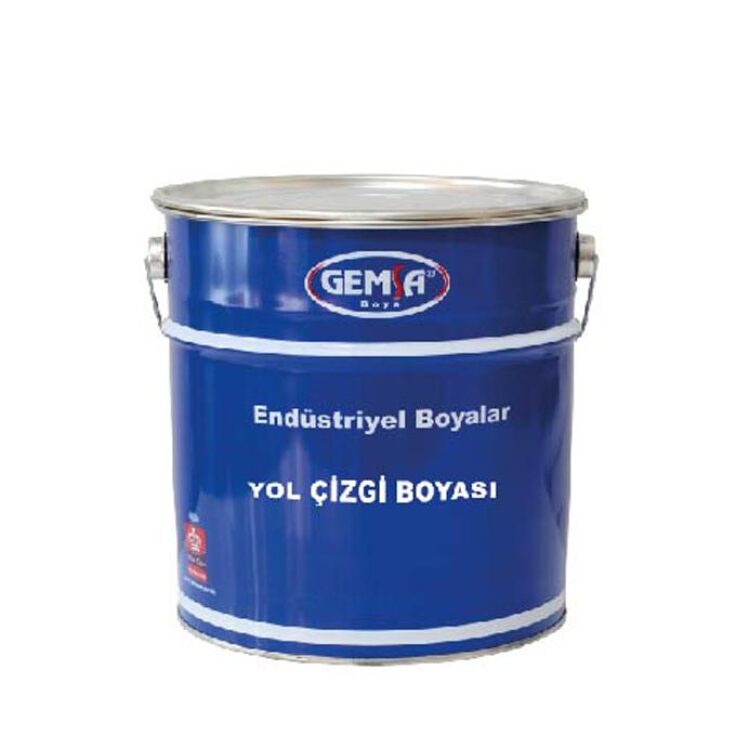 Definition: Rapid alkyd based, chlorine rubber modified elastic topcoat paint formulated for use on high wear resistance, fast drying and high adhesion ability on the floor. It penetrates the surfaces it is applied to very well, it is easy to apply, thanks to its high mechanical resistance, it creates a permanent film on the surfaces for a long time, it does not crack, swell and wear. It is highly resistant to precipitation, humidity, sun rays, human and vehicle circulation.
Area of Application: Gemsa Road Line Paint can be safely used for marking purposes on the floors of curbs, parking lots and sports facilities wherever there is intense traffic circulation such as asphalt, road, parking, tennis court, airport, highway, pavement, pedestrian crossings etc.
Application Tools: Brush, Roller or Pistole
Application Thinner: Gemsa rapid thinner, toluene, xylol, etc. solvents (that cannot get thinned with white sprite and gas)
Method of Application: The surfaces to be applied should be free from dust, oil and dirt and should not be wet or moist. Ambient temperature should be 15-30C. It is applied in two coats by thinning 5-10% in roller and brush applications and 20-25% in pistole applications and should be waited for half an hour between coats. The paint should be thoroughly stirred before use. The ambient temperature must be between 5-35°C during application. Applied surfaces should be protected from physical and chemical factors for 24 hours. The paint must never be discharged into the sewerage and water channels.
Drying Time:
Surface Drying: Non-dust drying for 10 minutes: 1 hour.
Hard drying : 7 hours
The drying time may vary depending on the temperature and air circulation of the application medium and the film thickness coefficient.
Paintable Area:
11-13 m2 / kg (30-microns dry film thickness)
13-15 m2 / lt (30-micron dry film thickness)
Storage Type and Duration: 1 year in a cool and dry environment not receiving direct sunlight, sealed packaging (+5°C to +30°C)
Safety Warnings: 
(S2) (Keep out of the reach of children.)
(S7) (Store in a closed, cool and ventilated place.)
Hazard Warnings:
(R10/11) (Easily flammable)
(R20/21/22) (Harmful by inhalation in contact with skin if swallowed.)
(R36/38) (Irritant to eyes and skin)
Notes: Temperature of the application surfaces should be above +5°C.
| | |
| --- | --- |
| Package Filling | TL / Pieces |
| WHITE 17/1 | 272.50 TL |
| SARI 17/1 | 278.00 TL |