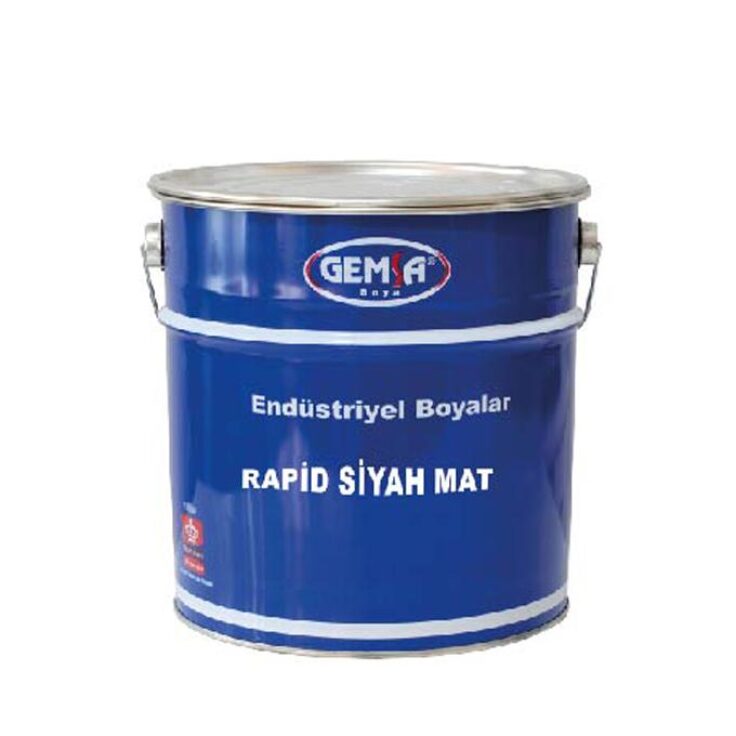 Definition: Rapid alkyd based, serially dried, high closure strength matt top coat black paint. As the water resistance is high, it is a primer that protects the surface of the material against corrosion. Its opacity and blackness are adjusted to provide maximum heat absorption.
Area of Application: Gemsa Black Matte Paint is used as a collector paint for collecting sunlight on surfaces such as solar energy systems and as a primer paint on all surfaces where industrial topcoat paints are applied.
Application Tools: Pistole, Roller & Brush
Application Thinner: Gemsa rapid thinner, toluene, xylol, etc. solvents (that cannot get thinned with white sprite and gas)
Method of Application: If the application is to be made directly to the metal surface, all kinds of oil, dirt and rust on the surface (sanded, scraped, burned or washed with solvent) should be cleaned. Two coats of Gemsa Rapid Black Matte are applied to the cleaned surface.
Notes: It should never be applied to synthetic painted and primed surfaces and dirty surfaces.
Drying Time:
Surface Drying:  10-15 minutes     Assembly Drying: 1-2 Hours
Full Drying:  10 hour – Hard Drying: 72 hours
Paintable Area:
7-9 m2 / kg (25-microns dry film thickness)
10.8-14 m2 / lt (25-micron dry film thickness)
Storage Type and Duration: 1 year in a cool and dry environment not receiving direct sunlight, sealed packaging (+5°C to +30°C)
Safety Warnings: 
(S2) (Keep out of the reach of children.)
(S7) (Store in a closed, cool and ventilated place.)
Hazard Warnings:
(R10/11) (Easily flammable)
(R20/21/22) (Harmful by inhalation in contact with skin if swallowed.)
(R36/38) (Irritant to eyes and skin)
Notes: Temperature of the application surfaces should be above +5°C.
| | |
| --- | --- |
| Package Filling | TL / Pieces |
| – | – |
| 15/1 | 148.00 TL |
| – | – |