Fiore Acrylic Exterior Wall Paint (304)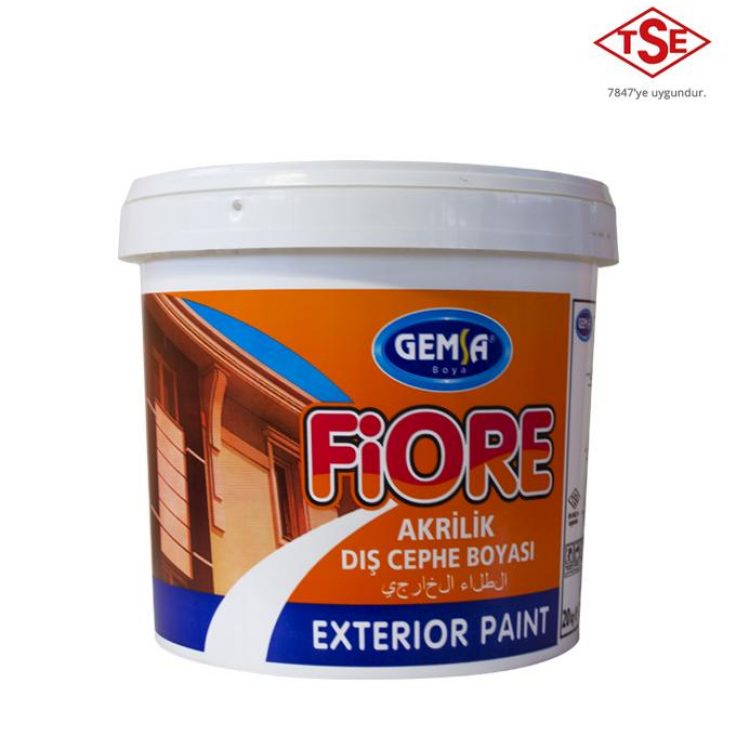 Definition: Acrylic copolymer is an emulsion-based, waterproofing topcoat exterior wall paint. Fiore Acrylic Exterior Wall Paint, which has been developed with special pigment and filling system, has excellent covering power and holds on to the surfaces it is applied with superior adherence power, is resistant to atmospheric conditions, sun rays, friction and impacts. It excludes moisture and is easy to apply. It fills the surfaces and renders a smooth appearance.
Area of Application: Fiore Acrylic Exterior Wall Paint can be safely used especially on concrete flat or rough plastered, mineral-based surfaces or contaminated; discoloured emulsion-based old painted surfaces; after being repaired and strengthened with appropriate primer.
Application Tools: Brush, Roller
Method of Application: Surface for application should be solid, clean and dry. Surface defects should be corrected with Gemsa Acrylic Exterior Wall Paste. Newly plastered surfaces should be inspected for dryness before application. The puffed or flaked parts on the old painted surfaces should be cleaned, after the repairs of the capillary cracks, they should be primed with Fiore Acrylic Primer before applying the topcoat of paint. During application, a soft and long-haired brush, lambskin roller or spray system can be used.
Paintable Area: 4 m2 area can be painted with 1 kg depending on the surface on two coats.
Thinning Ratio: It is thinned with 20% water.
Drying Time 25°C: Touch drying: 1 hour – Hard Drying: 24 hours
Storage Type and Duration: 1 year in a cool and dry environment not receiving direct sunlight, sealed packaging (+5°C to +30°C)
Safety Warnings: 
(S2) (Keep out of the reach of children.)
(S7) (Store in a closed, cool and ventilated place.)
(S24/25) (Avoid contact with eyes and skin.)
Notes: Temperature of the application surfaces should be above +5°C.
| | |
| --- | --- |
| Package Filling | TL / Pieces |
| GL. | 30.60 TL |
| 1/10 | 86.40 TL |
| BD. | 171.6 TL |